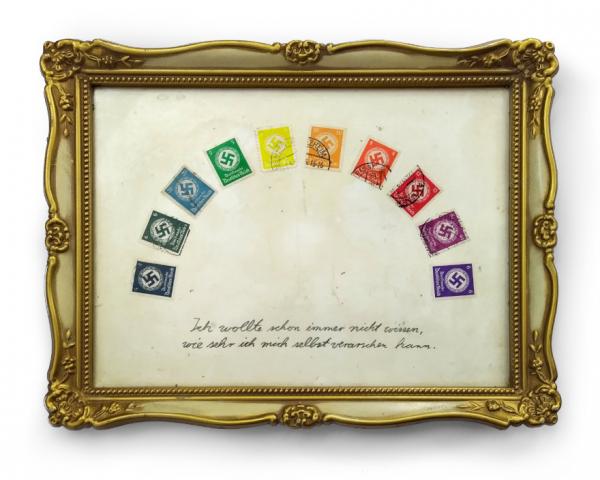 The STADTMUSEUM DÜSSELDORF shows the DA! Art-Award 2022.

artists:
Ettore Albert, Aljoscha, Marie Althöfer, Jürgen Baumann, Patrick Becker, Thomas Behling, Willem Bock, Carsten Borck, Clair Bötschi, Brigitte Braun und Betina Panek (NERZ KG), Walter Breidenbach, Klaus Busch, Laure Catugier, Viktor Cleve, Matthias Dämpfle, Peter Debusi, Angela Dörflein, Barbara Duisberg, Wolfgang Eberhardt, Benjamin Esser, Eva Fabian, Kuesti Fraun, Heinz Frey, Wolfgang Fritz, Jorge Garzon, Corina Gertz, Titus Grall, Martin Grobecker, Petra Groh, Richard Gruber, Heinke Haberland, Dieter Hanf, Ruth Hebler, Ulrich Heemann, Michael Heinrich, Edurne Herrán, Andreij Herzog, Lion Hoffmann, Michael Holtschulte, Hanne Horn, Ivan Horvat, Ulrike Hüppeler, Tommy Kny, Rona Kobel, Karolina Kos, Wolfgang Kühn, Dorthe Landschulz, Michael Lapuks, Simi Larisch, Lotte Lindner, Marion Linke, Ariane Litmeyer, Heidrun MalComes, Albert Markert, Piero Masztalerz, Karl-Heinz Mauermann, McLOVLA, Peter Menne, Nadia Menze, Denis Metz, Michel Meyer, Sarai Meyron, Adina Mocanu, Müller & Sohn, Andreas Neuffer, Thomas Neumaier, Oliver Neumann, Simone Neumann-Salva, Nessi Nezilla, Sylvia Nitsche, Daniel Noll, Oliver Ottitsch, Enrico Pietracci, Usch Quednau, Gerda Raichle, Johanna Reckers, Caspar Reuter, Christian Ristau, Eugen Rother, Thure Röttger, Angela Schäfer, Michael Scheibenreiter, Bettina Schipping, David Schröder, Oliver Schwarz, Stefan Seffrin, Gerhard Silber, Wolfgang Stegherr, Manuel Talarico, Ralf Tekaat, Thomas Volkmann, Ruth Weizel, Emil Wesemann, Christoph Wetzel (REIZ), Miriam Wurster, Elke Zaksek, Karla Zipfel, Meike Zopf, Roderich Zupnickl

soft opening: Tuesday, September 6th, 4:00 p.m.
Vernissage: Friday, September 9th, 6 p.m.
Award ceremony: Sunday, September 25, 3 p.m.

Duration: 07.09. until 25.9.2022

DA! Art-Award 2022
STADTMUSEUM DÜSSELDORF
Berger Allee 2
40213 Düsseldorf
Germany

Open Tuesday to Sunday from 11:00 a.m. to 6:00 p.m
Please note the entrance fees for the Stadtmuseum Düsseldorf.