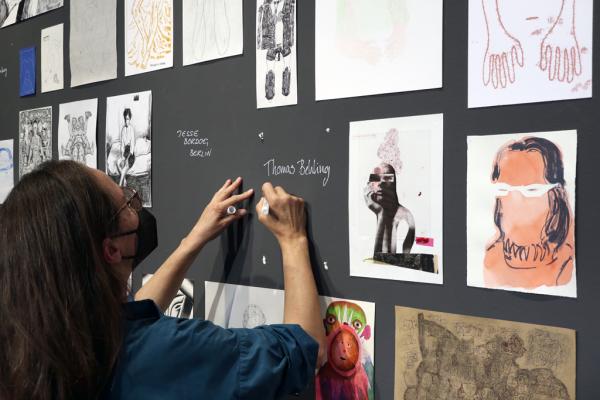 How are our judgements about art affected by our knowledge of the artist's name and background? How is the value of a drawing determined? Where is the border between art and non-art?

The exhibition ANONYMOUS DRAWINGS 2022 features 600 drawings by 600 international artists presented with no mention of authorship or title and offered for sale at a symbolic price of 250€ each. The identity of the artist is revealed only after the work is sold: Sold drawings will be taken right off the wall and the empty space left behind will be marked with the artist's full name and place of origin. The given unit sales price should not be seen as a real market price, but as a conceptual place holder for any conceivable amount of money in the art market.

June 17 – August 24, 2022

Opening: June 17, 2022 / 6 PM

Welcome: Dorothee Bienert, Deputy Head of the Department of Culture
Greeting: Karin Korte, City Councillor for Culture
Introduction: Anke Becker, Project founder Anonymous Drawings

Starting at 8 pm, drawings will be available for purchase at the gallery.

The exhibition was preceded by an international, open call for participation. There were no guidelines specifying content; only a formal rule: the only requirement was that the drawings are no bigger than A3. Biographical details of the participants were not requested and played no role in the selection process, which was also carried out anonymously. The Berlin artist and project founder Anke Becker selected 600 works from over 3000 online submissions and, in collaboration with the artists Inken Reinert and Veronike Hinsberg, combined them into a collective work of art for the exhibition.

ANONYMOUS DRAWINGS is conceptual art and an exhibition project all in one: the works of the participating artists become part of a large wall installation; a hierarchy-free homage to the diverse medium of drawing.

Sales dates in the gallery
Friday, June 17, 8–10 pm
Saturday, June 25, 4–8 pm
Wednesday, July 20, 3–5 pm
Wednesday, August 10, 5–8 pm
Wednesday, August 24, 5–8 pm
and by appointment: info@anonyme-zeichner.de
Cash and card payment
Online sale from June 20 at www.anonyme-zeichner.de

GALERIE IM KÖRNERPARK
Schierker Strasse 8
12051 Berlin-Neukölln, Germany

open daily 10 am - 8 pm
Entrance free
To visit the gallery a medical mask is required.